Scalable Software Defined Network architectures for cooperative live media production exploiting virtualized production resources and 5G wireless acquisition
The Media & Entertainment (M&E) industry has been undergoing fundamental changes in recent years, largely as a result of the change in the viewing habits of consumers who now have a huge the choice for entertainment.
In this highly competitive environment, broadcasters and content producers must meet growing consumer demand for ever more engaging content, in particular by using more live sources and trying to get live feedback from the audience straight into the production chain. The big challenge for them is that they need to produce more content, at time when they have less time and fewer resources to do so, in many cases using a network infrastructure based on technology (SDI - Serial Digital Interface) that is 30 years old and not suited for the Internet and mobile age.
The Project
VIRTUOSA is a project to develop a product of the same name that will make live media production more effective, more cost-efficient and easily scalable, by virtualizing of network and production resources. This new generation of media networks is based on 5G-wireless communication and on technology already widely in use in IT, but was until recently not considered suitable for broadcasting: Internet Protocol (IP) technology, Software-Defined Networking (SDN) technology, Network Function Virtualization (NFV), High Performance Computing (HPC), and Cloud Computing.
VIRTUOSA will enable virtual connections of any studio, control room and on-site production across multiple locations, and live feedback from the audience straight into the production chain via 5G acquisition. It will allow media production facilities, equipment, resources, and talent to be shared across locations, supporting Cooperative Live Media Production with real-time transport and processing of live media over IP with up to 100Gbit/s.
As a result, live media production costs will be reduced by 30-40%, and more Live content can be easily be produced in parallel and at the same cost level.
Objective
The overall objective of the 24-month VIRTUOSA project is to create a market ready product – the VIRTUOSA product – fully tested technically, validated in a real operational environment. The product itself will be based on three core technical elements: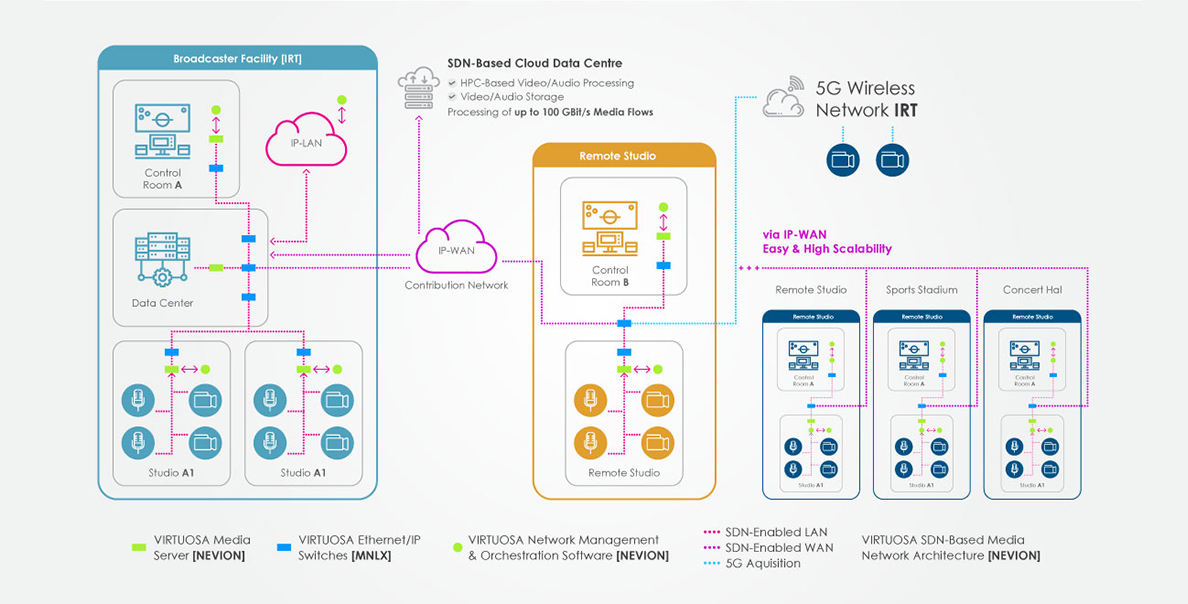 Architecture
A tailor-made architecture solution for SDN-based LAN & WAN and 5G acquisition
Equipment
High performance SDN-based media servers and media routers (Ethernet/IP switches)
Software
Media network management and self-service orchestration.